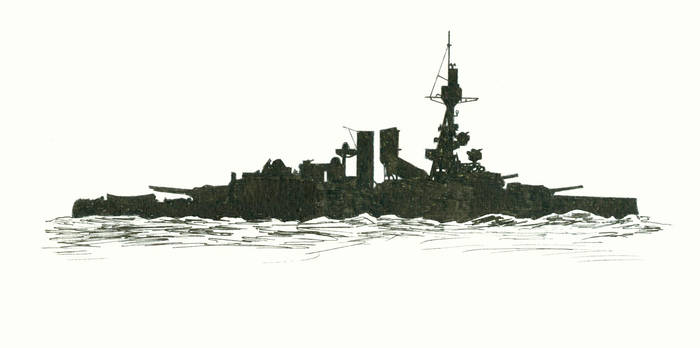 Sverige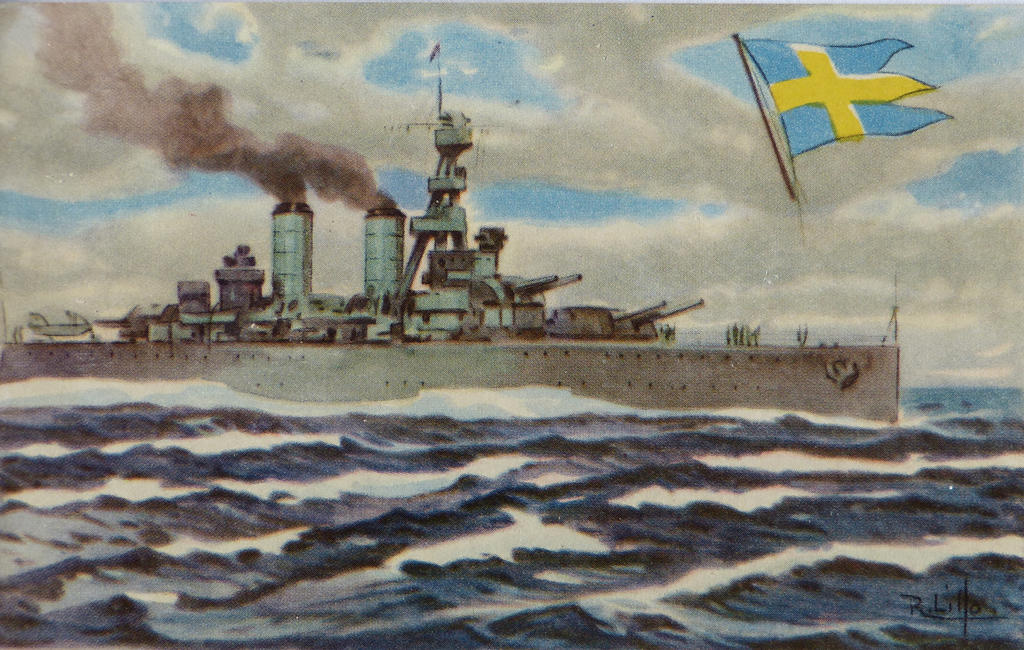 Drottning Victoria. Original postcard Chocolate La Estrella
An item reported that the Swedish building programme 1914-1919 originally consisted of
3 armoured cruisers or coastal defence vessels, of which the Sverige (1) was built by subscription and completed in 1917, Drottning Victoria (2) completed in February 1921 and the Gustav V (3) expected to be completed in autumn 1921
2 destroyers, Wrangel and Wachtmeister both completed
Submarines, details were kept secret, what known was that excluding 2 projected and not constructed 8 or 9 units.
Notes
1. Laid down at Götaverken, Goteburg, 12 December 1912, launched 3 May 1915, commissioned 14 May 1917, decommissioned 30 January 1953 and finally scrapped in 1958. She was financed with a public fund raising, The twelve Yarrow boilers and 2 Kockums-Curtis turbines provide 2,000 hp allowing a speed at the trials of 22,5 knots and with an average speed of 14 knots her range was 2.720 nautical miles. Dimensions 119,7 (waterline)-120 (over all) x 18,63 x 6,25 metre and a displacement of 6,852 tons standard and 7,516 tons full load although Jane's Fighting Ships edition 1938 claims 7,080 tons. She was rebuilt in the years 1931-1933 when for instance the fore funnel was changed. Her crew numbered 427-450 men. In contrary to her sister ships trunked her fore funnel away from the superstructure. Her armament during the Second World War was 2x2-28,3cm guns,1x2 and 4x1 15,2cm guns, 2x2 7,5cm anti aircraft guns, 3x2 4cm anti aircraft guns, 2x2 2,5cm anti aircraft guns, 3x2cm anti aircraft guns and 2x2 8mm anti aircraft guns. Originally the armament consisted of 2x2 28,3mm guns, 1x2 and 6x1 15,2cm guns, 6 7,5cm guns (of which 2 anti aircraft), 2x5,7cm, 2x 6,6mm machineguns and 2-45cm torpedo tubes. The armour consisted a 200/100-60mm belt, the main gun turrets 200-130mm, the secondary gun turrets 100mm, the barbettes 150-100mm, the conning tower 175m and the deck 45-30 or 28mm. Part of Sverig-class preceded by Oscar II, consiting of Sverige, Drottning Victoria and the Gustaf V, a fourth one was never realized.
2. Laid down by Götaverken, Gothenburg, Sweden in July 2015, launched on 15 September 1917, commissioned on 12 March 1921, decommissioned on 22 March 1957 and broken up in 1959.
3. Laid down by Kockums Mekaniska Verkstad, Malmö, Sweden in spring 1915, launched on 15 September 1917, commisioned on 12 December 1922, decommissioned on 22 March 1957 and broken up in 1970.
Source
The National Archives, Kew Gardens, England CAB-24-121-62